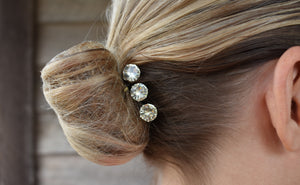 **Due to some discoloration, these buns pins have been reduced to $1 each!  While they are still crystal, there is a very light yellow-ish tint to the stone**

Diamonds are a girls best friend, but these Brilliant Round (rhinestone 😉) Bun Pins are a buns best friend!
We recommend 3 pins per side of your bun for the perfectly polished looked, but also recommend grabbing an extra one or two, as bun pins have been known to jump out!