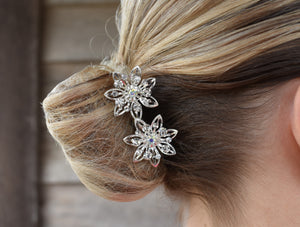 A Paris Japonica flower is a slow growing perennial, which prefers cool, humid, shady places.

The Paris Japonica bun pin prefers to be in your bun, in the ring, doing the pretty trot down the rail, with a blue ribbon on your side.
Since these pins are larger than many, we recommend 2 pins per side of your bun for the perfectly polished looked, but also recommend grabbing an extra one or two, as bun pins have been known to jump out!